Learn how we earned our reputation for excellence in the home care industry.
SENIOR IN-HOME CARE EXPERTS
Request an appointment to learn how we can help care for your loved ones!
We're committed to your care.
Our Pittsburgh in-home elderly care at Sunny Days helps families by understanding their loved one's needs and then customizing a care solution for their budget. Call us today to schedule your FREE in-home care assessment or to meet one of our elderly assistance advisors.

OUR SERVICE AREAS
We serve all of Western PA counties would include Greene, Fayette, Washington, Westmoreland, Allegheny, Beaver, Butler, Armstrong, Indiana, Lawrence, New Castle, Mercer, Venango, Clarion, Forest, Crawford, and Erie. Please feel free to contact us for additional location information.
OUR CAREGIVERS
Our Pittsburgh in-home elderly caregivers are devoted, highly qualified, and carefully selected individuals who are thoroughly screened, background checked, bonded, and insured. Each caregiver is either a Certified Home Health Aide (C.H.H.A.) or a Certified Nurse Assistant (C.N.A.) with related work experience as a caregiver for elderly assistance.

About Us Video:
Learn about our history, our caregivers and care-centered philosophy!
EMPLOYMENT OPPORTUNITIES
Do you want to be a caregiver? The home health care industry is a growing and exciting market with many job opportunities! We offer competitive wages, opportunities for recognition, and credit for students pursuing degrees in the medical services industry. Click here for more information!
What people are saying about Sunny Days In-Home Care

Natalie Hooper (Caregiver)
I Natalie Hooper have been a Certified Nurse Aide (CNA) for twelve years, with plenty of experience in nursing homes, hospitals, and assisted living facilities in six states. One thing you cannot compare is the one-on-one time you get when you are in a person's home caring for them and helping them. It makes you feel like family in a way, as well as being a comfort and great help to the client. Some of them view you as a family member because they do not have any other family, and that makes the bond stronger. This is what I found and what I love about Sunny Days In-Home Care. I have been with the company almost two years. They are very professional but also very caring with their clients, they have a heart. That is why I like working for them, as I am treated the same way with the utmost respect. They listen to any queries or questions I have. Also, if the client has any questions, they know Sunny Days can answer it for them. The best in-home care company I have ever worked for in my twelve years of being a CNA!
James R. (Caregiver)
I really enjoy working for Sunny Days In-Home Care. I especially enjoy working with the clients, they have been awesome towards me. I also love working with such an awesome team!
Rebecca (Client)
Thank you for sending Tina into my mother's home. Tina was like a ray of sunshine entering a window that had been closed off for a very long time. Tina was extremely attentive and caring while handling very demanding and challenging daily tasks. Her friendship and care for my mother during her final days was touching. Feel free to add me to your referral list.
Joan (Client)
I wanted to thank you for all your great help and assistance this past 3 months during our mother's surgery and recovery. She speaks so highly of the caregiver (Annette). Thank you for helping my mom get back on her feet again. She looks great! All the best.
Karen C. (Client)
I like Sunny Days In-Home Care because the girls are always on time, I enjoy seeing them come when they are expected. They are very cordial and kind and do whatever I need them to do.
Your loved ones are in great hands with the professional caregivers at Sunny Days In-Home Care.
Our number-one priority is providing the best in-home elderly care available!
Our Pittsburgh in-home elderly caregivers are carefully matched with our clients. We find the perfect fit for you!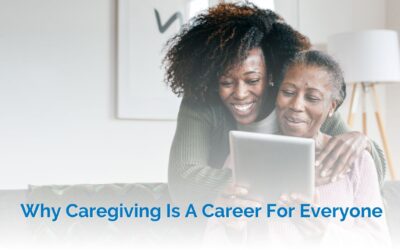 Believe it or not, caregiving is a career for everyone. Many careers are tough to get into because you either need lots of previous experience or a specific degree. The good news is that there are still good career paths where no prerequisites are required. Being a...
read more